Here's how this course will change your world
The In Love With Your Life course will teach you to create more through less.
Less stress, fewer distractions, fewer burdens and obligations. More time, more space, more energy, more love, more life. You will learn to take a step back from all the noise, to find what really matters to you. Things that light you up and make you happy.
The curriculum covers many aspects of simplifying. It offers in-depth guidance and takes you on a journey of self-discovery. You will learn to make positive changes and transform your life into a life you're in love with.
If you want to start simplifying your life, NOW is the time to start.
What will you get?
✓ A comprehensive 20 weeks course with guided lessons to simplify all major aspects of your life
✓ 20 Sets of worksheet with easy instructions to help you apply what you've learned directly in your everyday life
✓ Audio files for each weekly lesson, for those who prefer listening over reading
✓ A new email from me every week to help keep you going
✓ The worksheets can be filled out digitally in PDF format, or printed to be filled out by hand
✓ Lifetime access to all the materials
✓ Written in easy to understand English, for non-native speakers
✓ BONUS: Full set of journaling prompts to help you stay on track after the course is finished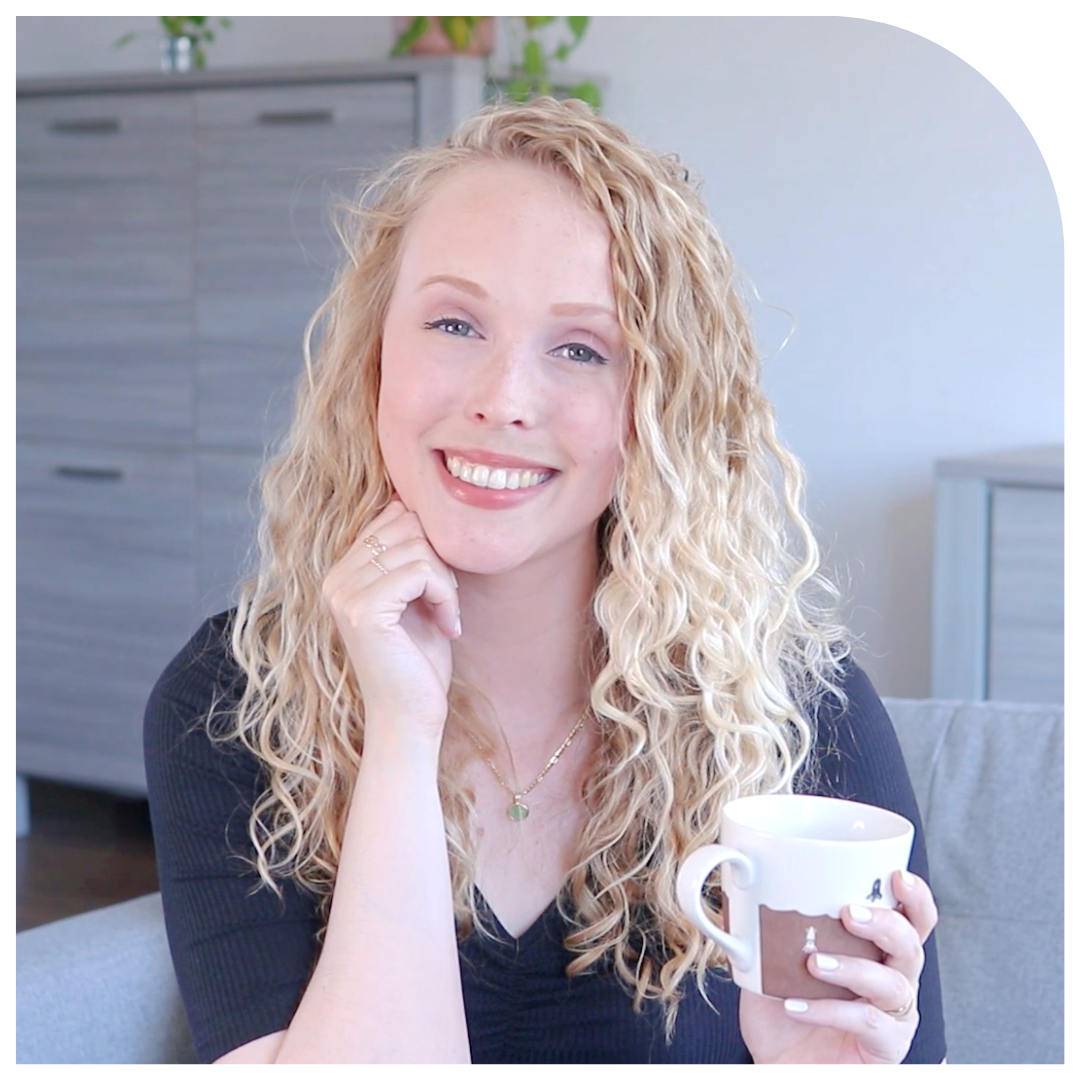 Hi, I'm Vera. I'm the content creator of the Youtube channel Simple Happy Zen. In 2013, I started simplifying my life and adopting a minimalist lifestyle. It's one of the best changes I've ever made.
I created this online course so I could teach people like you how to achieve the same results that I learned through years of trial and error. By the end of it, you will have greatly simplified your life and created a life you're in love with.
Do you have any questions about this course? Check the FAQ or email me directly at [email protected]
Decide your own pace
A new lesson will become available for you every week. But you decide how fast you want to go.
You'll continue to have access to all the lessons for as long as you'd like, so you decide wherever and whenever you want to work on your course.
No matter how busy you are, you can fit this course into your own lifestyle.
A new lesson every week


After enrolling, you will get an email from me every week, letting you know that a new lesson just became available for you. Every lesson has a central theme to help you make changes step by step.
Simplify all big aspects of your life
✓ Manage your energy better
✓ Learn to say no in a healthy way
✓ Simplify your daily routines
✓ Simplify your relationships and your social life
✓ Simplify your commitments, goals and to-do's
✓ Get a better relationship with your phone
✓ Simplify and get a better understanding of your finances
✓ Learn to improve your self care, self love, mindfulness and gratitude
✓ Learn to let go of limiting beliefs and simplify your mental space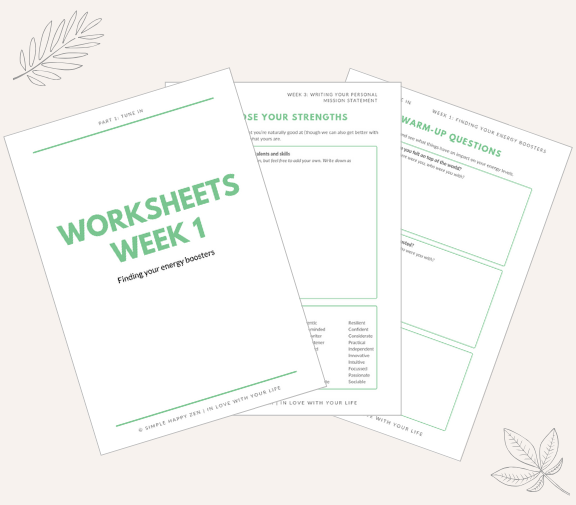 Easy instructions, in-depth guidance
Everyone is different, and everyone's life is different. The lessons and worksheets are designed to offer in-depth guidance and to help you apply what you've learned directly to your situation.


The worksheets offer easy instructions and are set up in a supportive way to help you on your journey.


I've designed the lessons the same way I design my videos: in a supportive, helpful and authentic way.
See what others have to say...
These past 20 weeks have been amazing. Doing the In Love With Your Life course has helped me change my whole outlook on life – spiritually, physically and mentally. I will be forever grateful for the hard work and dedication Vera has put into this course. Because of this program, I have finally gone back to school to finish my masters degree. I have organized my life to make my dream become a reality. Thank you!
- Amy (USA) -


This course was amazing! It allowed me to do deep dives into just about every area of my life. The exercises were incredibly well thought out and very effective in helping to affect change along the way. I loved the periodic reflections that helped me go back and see how much progress I have made, as well as keep me on track for change. This course is a life-changer. My only "complaint" is that it wasn't longer! I was so sad when the 20th week rolled around. I could do this course every week all year long and get something new from it each time. 
- D.G. -


I found this course helpful as you can choose how long you want to spend working on each week of the course, which is ideal if you are busy. The course not only helps with the practical aspects of life but also helps you to consider your thoughts and choices and how these can lead to life being more complicated and difficult.
- D.R. -


I am a woman who is in her 50's and felt stuck in knowing what I wanted out of life, after feeling not much zest for a few years already. This course was the perfect way for me to get back in touch with myself, goals, roadblocks & how to over come them to create the life I really wanted for myself. Vera's simple but impactful lessons helped guide me through the "why's" of my own roadblocks, then the steps to overcome them with her own examples to help along the way. I feel zest for my life once more & I am excited to keep up this momentum to carry me forwards in happiness.
- Nicole -


I would recommend the In Love With Your Life course to anyone looking to simplify and live their best life. This program is well thought-out and goes into many different aspects of simplifying, minimalism, and self-care. This is a great course for those who are looking to take some time to dig deep, invest in their own happiness, and make meaningful changes.
- Amber -


I am so glad that Vera put the time into making this course which really covers the whole life and different areas of your being. The way the course has been set up is very nice and the additional audios and videos are really helpful. Not to mention that one has lifetime access to this course so that I can come back to it again in the future and re-evaluate my life and define my new future. Thank you very much for this course, Vera!
- Désirée -

The "In Love With Your Life" was exactly what I needed at this point in my life. The 20-week course was self-paced, which was perfect for my busy schedule, but also having each lesson unlock on a week-by-week basis really forced me to slow down, review, and digest the coursework and learnings each week. It really helped me focus on what I needed rather than being prescriptive and guided me through a much-needed introspection and analysis of where I am in my life and where I want to be. Thanks so much to Vera for putting together such a peaceful, loving, and positive toolkit to help anyone slow down, appreciate life, and find ways to make it better.
- Kathleen-


This course has been so wonderful, it really motivated me and made me realize that I was stuck and not at all even trying to achieve the goals that I wanted to achieve for so long. I am now so excited for the future. I've simplified my life, made it more intentional and mindful by living in the present and being grateful for what I have. I am so grateful for Vera and this course, because now I can truly say that I'm starting to really love my life! Thank you Vera!
- Joan -

This course is perfect for you if...
... you feel overwhelmed at times and you want to change your life by clearing the chaos.
This course will help you feel more in control of your life and motivate you to take charge. If you've been thinking about simplifying for a while, but never found the right moment to start, now is the time.
... you want to gain insight into what makes you happy and how you can create your best life.
You will learn to identify all the things that no longer serve you and how to let go of them. If you want a better understanding of what makes you happy and how you can create more of what you love, this course will get you there.
... you already started with simplifying your life, but you don't know how to take that next step.
In Love With Your Life will help you take the next step in growing your happiness by simplifying. The worksheets with 92 thought-provoking exercises are designed to help you find new ways to grow and improve.
... you want more in-depth guidance than simply watching YouTube videos.
In Love With Your Life goes a lot further than what you can learn from videos. The course is designed to get you thinking and actually make positive changes to your life that last.
This course is NOT for you if...
... you only want to focus on minimalism and decluttering your stuff.
This course focuses on simplifying your life, not just your home. If you're just looking for a decluttering guide, it's probably not the best fit for you right now. But you would probably love my decluttering e-book, which you can find right here.
... you want a simple solution or a quick fix.
This program takes 20 weeks and focuses on the big picture. You have to be willing to put in the work to see big results. 
Frequently asked questions
What is In Love With Your Life?
It's a full 20 week online course about simplifying your life. Every week you'll get access to a new lesson with worksheets, as well as extra materials and an email from me to keep you motivated.


When does the course start and finish?
The course starts as soon as you enroll. You decide when you start and when you finish. You'll have access to all the materials for as long as you'd like.


How does it work?
After you enroll in the course, you will get access to a new lesson every week. Each lesson takes between 2-6 hours to complete. You can do one lesson a week, but you can do it at your own pace as well.


What if I don't have time every week?
The course is designed as a 20 week program, but you also have the option of going at your own pace. Review your favorite lessons and pick it up again whenever you'd like.


How do I use the worksheets?
Every lesson has worksheets with exercises designed to guide you in your simplifying process. The worksheets are PDFs that you can download and fill digitally, or print if you prefer.


How long will I have access to the materials?
After enrolling, you will have unlimited access to the lessons for as long as you'd like. The worksheets can also be downloaded if you want to keep them offline.


What if I want to get access to all the lessons instantly?
Feel free to send me an email at [email protected] and I'll make sure to give you access to all the lessons immediately, instead of getting access to a new lesson every week.


How is this course different from your videos?
This course includes many new tips and strategies that I haven't shared anywhere else, and it follows a specific curriculum. You will get more in-depth guidance and the worksheets are designed to really get you thinking and apply what you've learned to your specific situation.


I can't wait, how do I start?
Click the button to enroll in the course and to go to the checkout page. Once you're enrolled, you can start immediately.


What are the payment options?
You can pay via credit or debit card, PayPal or Apple or Google Pay.


I don't live in the USA or the EU. Can I still take this course?
Yes, you can take this course anywhere in the world. As long as you understand English, you're good to go.


What if I change my mind?
It's important to me that this course provides real value for you. If you're unsatisfied, contact me at [email protected] in the first 30 days to get a full refund.


What do I do if I have more questions?
Contact me at [email protected], and I'll get back to you. You can also watch this video for more info.